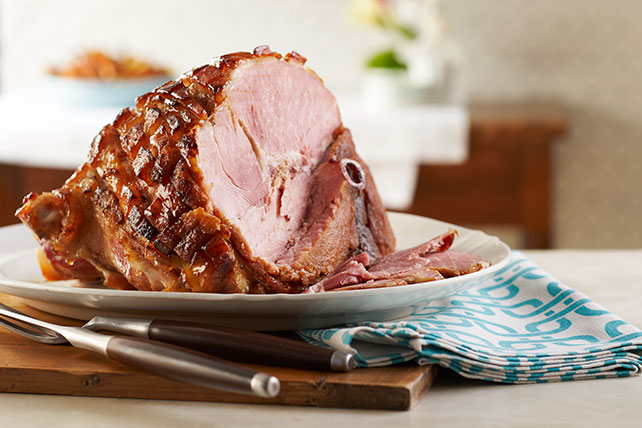 14 Apr

Jazz up your Easter Ham with a Bourbon Maple Glaze
Smoked Easter Ham with Maple Bourbon Glaze
Prep time: 2 min     cook time: 5 min        total time: 7 hr 30 mins
Ingredients:
apple wood chips
10-12 lb  pre-cooked, bone in ham
1/2-1 cup maple syrup
Glaze:
1/2 cup brown sugar
1/4 cup maple syrup
1/4 cup honey
2 tablespoons apple cider vinegar
1/4  cup bourbon
1 tablespoon ground dry mustard
2 tablespoons instant coffee
2 tablespoons orange juice concentrate (frozen in the can)
Instructions
Soak wood chips in water for 1-2 hours
Pre heat grill/smoker between 500-700 degrees
While grill is heating, strain wood chips and once desired temp is hit add wood chips liberally to the smoker. Immediately place the ham (flat side down) directly on to the grates, but cooking with indirect heath. The wood chips will naturally bring the temperature to around 150-200 degrees; watch heat bringing up until it reaches 225-250 degrees (desired cooking temp).
Let ham smoke at desired temp for 3.5 hours. Leave the ham alone, letting it smoke with disruption.
Once ham has smoked for 3.5 hours begin applying glaze every 20 minutes until ham has reached an internal temperature of 140 degrees. Once ham has reached an internal temp of 140 glaze one last and wait approximately 15 minutes for glaze to set.
Remove ham and wrap immediately in foil and allow to rest for at minimum 30 minutes.
Carve and enjoy.
Notes
**recipe is applicable to any smoker or charcoal. For gas grill utilize a smoker box for a smoked flavor**
**general rule of thumb is to smoke/grill your ham 30 minutes per pound**
By mandy kellogg rye @waiting on martha